| | |
| --- | --- |
| | created over 2 years ago | Tagged: technology, belonging, education, touchscreen, table, solar power, virtual forest, linux, india, developing country, memory card, subsidize, |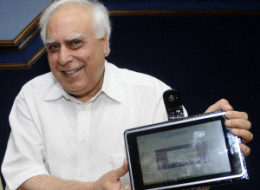 MUMBAI, India -- It looks like an iPad, only it's 1/14th the cost: India has unveiled the prototype of a $35 basic touchscreen tablet aimed at students, which it hopes to bring into production by 2011.
If the government can find a manufacturer, the Linux operating system-based computer would be the latest in a string of "world's cheapest" innovations to hit the market out of India, which is home to the 100,000 rupee ($2,127) compact Nano car, the 749 rupees ($16) water purifier and the $2,000 open-heart surgery.
The tablet can be used for functions like word processing, web browsing and video-conferencing. It has a solar power option too - important for India's energy-starved hinterlands - though that add-on costs extra.
"This is our answer to MIT's $100 computer," human resource development minister Kapil Sibal told the Economic Times when he unveiled the device Thursday.
Mamta Varma, a ministry spokeswoman, said falling hardware costs and intelligent design make the price tag plausible. The tablet doesn't have a hard disk, but instead uses a memory card, much like a mobile phone. The tablet design cuts hardware costs, and the use of open-source software also adds to savings, she said.
India plans to subsidize the cost of the tablet for its students, bringing the purchase price down to around $20.