| | |
| --- | --- |
| | created over 3 years ago | Tagged: esteem, well being, technology, belonging, future, fast, transportation, jeep, versatile, flying car, hover, stable, hovercraft, ibuilt it, aeronautics, hovercar, air jeep, fancraft, |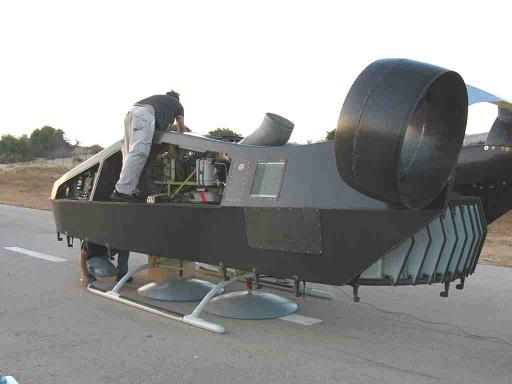 Israeli developers working on a ducted-fan flying hovercar say that a full-size, turbine driven unmanned prototype will fly "within two months". Flight tests with a smaller electrically-driven model, they say, have validated their basic technology.
"We've solved the three basic problems of ducted-fan craft," he says. "Our craft are stable, they can lift heavy loads, and they can fly fast - better than 100 knots."
"Its great advantage is in urban areas," says Frankel-Yoeli. "Not just for military missions. Imagine a car accident, with both lanes of traffic blocked. A normal ambulance can't get there. A helicopter has no room. But we can land on the pavement."
The hovering fancraft could yet be a boon to the military and perhaps the emergency services - if they can really perform as advertised. The electric Panda seems to work, but the real test will come this summer when the turbine Mule takes to the skies. ®