| | |
| --- | --- |
| | created over 3 years ago | Tagged: esteem, entertainment, shielding, deity complex, living vicariously, youtube, sexuality, saftey, pornography, culture war, bill oreilly, fox news channel, |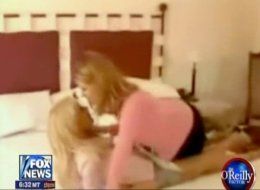 Bill O'Reilly fancies himself a "crusader" in the "Culture Wars," which we presume is why he aired a segment tonight about the dangers posed to children by the shocking amount of pornography available on the popular video site YouTube.
O'Reilly began the segment with a rather strange statement: "I know a lot of adults don't go to YouTube, but this is the rage among American children, children as young as six, seven years old." In fact, we're quite sure that YouTube is "the rage" among adults as well, but moving on.
His guest was conservative columnist Amanda Carpenter, who started her analysis by explaining exactly what YouTube is. However, the camera quickly turned away from her and went full screen to YouTube porn videos, effectively turning Ms. Carpenter's description into a voice-over for a porn montage.