| | |
| --- | --- |
| | created over 4 years ago | Tagged: well being, safety, belonging, we are family, sheilding, political, danger, violence, villain, life, gay, church, shooting, honor, progressive, evil, gay rights, atheism, faith, death penalty, hatred, right wing, vile, open minded, conservatives, liberals, jobless, rampage, jolly, hate politics, madman, unitarian, gunman, bloody minded, bastard, pea brained, murderer, coward, dead end, dysfunctional, scum, failed suicide, |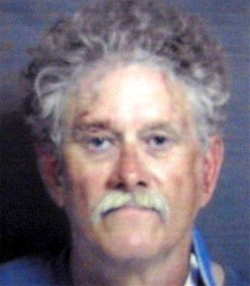 KNOXVILLE, Tenn. (AP) — An out-of-work truck driver smiled Monday as he pleaded guilty to killing two people and wounding six others at a Tennessee church last summer because he hated its liberal politics.
Adkisson was scheduled to stand trial next month in the July 2008 rampage at the Tennessee Valley United Unitarian Church in Knoxville, but decided to enter a plea deal that virtually guarantees he will never leave prison alive.
Evidence would show Adkisson bought the shotgun a month before the attack, sawed off the barrel at his home and carried the weapon into the church in a guitar case that he bought two days before the shooting. He had more than 70 shotgun shells with him and planned to keep firing until officers killed him, police have said. But church members intervened and wrestled him to the ground.
The Unitarian Universalist church promotes progressive social work, including advocacy of women and gay rights.
Assistant District Attorney Leslie Nassios said Adkisson gave a statement to police and left a suicide note. They showed he planned the attack on the church, where his ex-wife was once a member, because he hated the church's liberal politics and Democrats, whom he believed "were responsible for his woes."
Victims and church members wept as the prosecutor described the wounds that killed longtime church member Greg McKendry, 60, who blocked the shots from hitting others, and retired English professor, Linda Kraeger, who had come to see the play. The church honored them during a 60th anniversary celebration on Sunday.
Two survivors each lost vision in one eye, one was left in a coma for several days after the shooting and another has endured several follow-up surgeries since.
Several church members felt Adkisson showed no remorse.
"Unbalanced, yes. Bitter, yes. Evil, yes. Insane, not in our ordinary use of the word," Bohstedt said.
"There are a lot of people who hate liberals, and if we stir that around in the pot and on the airwaves, eventually there will be people (like Adkisson) ... who get infected by the violent rhetoric and put it into violent action," he said.
Bohstedt said he was worried about future violence: "Do you think there are other Jim Adkissons out there listening to hate speech? I do."
Bill O'Reilly, Michael Savage, Sean Hannity on accused shooter's reading list
Police found right-wing political books, brass knuckles, empty shotgun shell boxes and a handgun in the Powell home of a man who said he attacked a church in order to kill liberals "who are ruining the country," court records show.
4-page letter outlines frustration, hatred of 'liberal movement'