| | |
| --- | --- |
| | created over 4 years ago | Tagged: well being, body warranty, physiological, cancer, drugs, share, big business, revenue, anti-cancer, genentech, |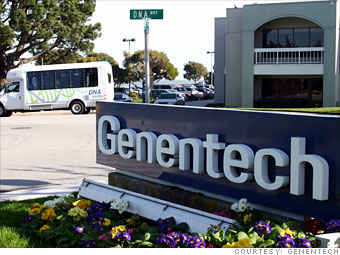 SAN FRANCISCO (MarketWatch) - Genentech Inc. on Thursday posted an earnings jump of 47% for the fourth quarter on strong sales of its line of anti-cancer drugs.
For the period ended Dec. 31, the biotechnology giant (DNA: genentech inc com new News , chart , profile , more Last: 85.08-0.49-0.57% 4:01pm 01/15/2009 Delayed quote data Add to portfolio Analyst Create alert Insider Discuss Financials Sponsored by: DNA 85.08, -0.49, -0.6%) reported earnings of $931 million, or 87 cents a share, compared to earnings of $632 million, or 59 cents a share, for the same period last year
Revenue grew 25% to $3.7 billion. Drug sales totaled $2.98 billion for the quarter while royalties brought in $607 million. The company drew another $119 million in contract revenue.
The top-selling drugs for the quarter were the cancer drugs Avastin and Rituxan, which sold $731 million and $677 million, respectively.