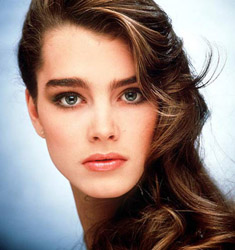 How far would you go to get Brooke Shields-caliber eyebrows? Some women who have put their brows through the ringer via waxing, tweezing, and shaving are now turning to brow transplants for salvation. Not a far cry from scalp hair restoration (think Hair Club For Men), brow transplants take hair follicles from "donor areas" (usually at the back or sides of the scalp)and use them to fill in patchy spots, add thickness to overplucked arches, or replace long-gone brows altogether.
Eyebrows are something we take for granted; but when they are thin, absent or tattooed, it's the first thing we notice.
Treating permanent hair loss in the brow area has a proven solution — the Bosley art and science of hair restoration. Eyebrow restoration is nothing new. It is the inevitable outcome of scalp hair restoration technology. The same state-of-the-art follicular unit transplantation is used for both procedures and the results are equally natural and virtually undetectable. In fact, the transplanted hair blends right in with the existing brow. With this kind of result, brow restoration has become an exciting cosmetic enhancement option and the demand for the service is growing rapidly as the benefits become more widely known.
Living growing hair where none existed! Yes, it is possible with Bosley eyebrow restoration as witnessed by the results of patient, Kelly Becker, who was born with almost no brow hair. Self-conscious and embarrassed, Kelly resorted to heavy pencil application, but the results were unnatural and unsatisfying. Patients with thin brows, patchy brows, or no brows such as Kelly, have found a permanent solution with Bosley eyebrow transplantation. They find the psychological benefits to be a dramatic boost to one's self-esteem. Patients work closely with their physicians to arrive at the best plan for their individual facial features. Full restoration typically involves 200 or more total grafts per procedure. Most patients are quite satisfied with the results of one procedure, but a touchup may be done later if the patient and doctor agree that it would be beneficial.