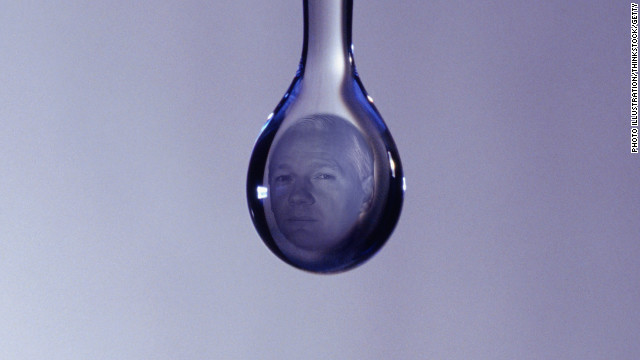 Julian Assange has been bunking for more than a week at the Ecuadorian Embassy in London as he waits to see if the South American country will grant him asylum. If he leaves the embassy, British police say, he'll be arrested. Apparently fed up with the waiting game, late this week police sent a note to Assange asking him to turn himself in. He's apparently ignoring it. This is just the latest Assange nail-biter since he became globally famous two years ago for publishing a trove of classified U.S. documents and sensitive State Department cables, acts that angered a lot of people who'd like him to go away. Assange is dangling from a cliff, for sure.
"Could the site itself go? Yes. As an idea, though, WikiLeaks isn't dead. The idea, the spirit, of leaking online is much bigger than WikiLeaks, and there are groups trying to do it," said former Guardian journalist and Columbia University journalism professor Emily Bell, who taught a class about ethics and WikiLeaks. The operative word is "trying." "WikiLeaks has shown that, in real life, facilitating leaks takes a lot of money and it leaves a lot of people vulnerable," she said.
"The trick and brilliance about WikiLeaks is that it was set up to evade law," Bell said, noting WikiLeaks had servers in different countries so no single territory could legally shut the site down. "Most mainstream publishers are just not in that business. They are still not comfortable with that. You saw even the most sophisticated and financially strong groups unable to do this." The New York Times has shelved an idea to set up a system for leakers. Former executive editor Bill Keller talked about the idea in 2011. The Times worked with WikiLeaks to release leaks in 2010. "The technology was too complicated," Times spokeswoman Danielle Rhoades-Ha told CNN this week.
Beyond technology, there are huge challenges to creating a leaking site, lessons that perhaps only the past two years of travails at WikiLeaks could have taught. Here's the list of must-do's to pull it off: 1. A site must publish relevant and important leaked information and have the staff to vet it, even if it's a huge amount of data. The dominant aesthetic of sites that publish leaks is text, text and more text, which can dizzy the eye and feel overwhelming. Consider presentation, design. Keep in mind that readers are smart, but they are busy and cannot, probably, read a quarter-million U.S. State Department cables. 2. It has to build and maintain a communication-sharing infrastructure that protects the identity of leakers. That helps establish credibility and makes people less afraid to send information. 3. It has to be ready to pay -- in money and reputation -- for the consequences of leaking. WikiLeaks began having money problems, Assange said, not long after the 2010 published leaks. Assange claimed that various institutions and corporations had hit the site with a financial blockage.
In 2010, the site reportedly leaked internal documents about Microsoft guidelines for how the company can provide user data to law enforcement. Wired magazine reported that Microsoft managed to get the site shut down. Cryptome upset the Department of Homeland Security by publishing a document about security at the Democratic National Convention, CNET reported in 2004. New York architect John Young runs the site. Now in his 70s, Young is considered the grandfather of leaking online, a swami in the art of cryptography, data sharing and deciphering code. He told CNN that the site has never vetted information it posts. "We don't promise what we are doing is true. We want the public to decide," Young said. "We don't trust authenticators of any kind. It's another form of control to authenticate." He worked with Assange in the early days of WikiLeaks. "People in government and others may be upset, but we can't stop the leaks," said Young. "They can blame journalists or us but we aren't the problem. The problem is people inside organizations who are leakers and want this information out, and they're going to keep doing it." Young said he isn't afraid to continue posting leaks in light of the prosecution of U.S. Army intelligence analyst Bradley Manning. Manning has been behind bars for more than two years and faces life in prison if found guilty in a court-martial proceeding on charges of stealing classified material. Information Manning is suspected of taking was published on WikiLeaks. "There is a lot of smoke and lightning about Manning; there's not much that's going to be done to him," Young said. The Manning case, and controversy surrounding Assange and global media coverage of the antics of Anonymous, the hacker collective, have driven more eyeballs to Cryptome, Young said. "We're glad that Julian got famous because it brought us attention, but we're happy to take a back seat to much of that attention," said Young. Cryptome is going to continue to publish documents. "What is the alternative?" Young asked. "That information not get out there?" "You can call us radical, you can call it whatever you like," he said. "But we've been here much longer than WikiLeaks and we'll be here long after."