| | |
| --- | --- |
| | created 10 months ago | Tagged: esteem, well being, entertainment, liquor, power plays, alcohol, access, membership, spirits, rare, discover, whiskey, |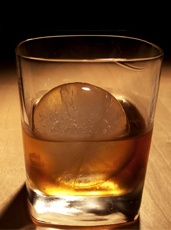 We'll keep this simple. You're about to gain access to some very rare alcohol. The kind of stuff that's here today and gone tomorrow. Secret hooch being churned out in dark alleys. Handcrafted gin distilled from pegasus manes and baby laughter.
Stuff like Balcones Baby Blue Corn Whiskey, the first and only blue corn whiskey ever produced. Ever. And gin distilled in a 25-foot-tall copper pot in San Francisco using snow meltwater from the Sierra Nevadas. Every week or so, two to three new bottles will pop up on the site (they'll also have "tasting bottles" soon so you can sample everything before pulling the trigger). If you happen to catch them, great. If not, they're gone for good.