| | |
| --- | --- |
| | created 11 months ago | Tagged: esteem, entertainment, tourism, living vicariously, inspiration, dangerous, amazing, daredevil, niagara falls, megastunt, highwire stunt, |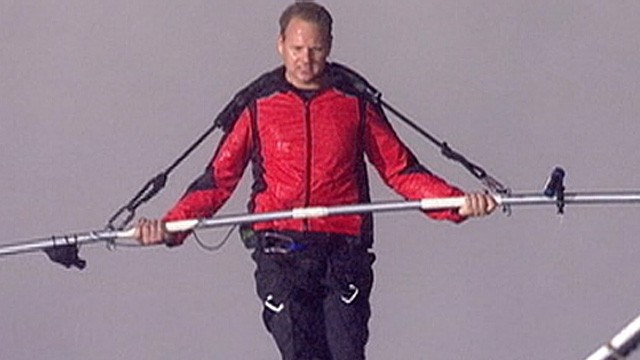 Daredevil Nik Wallenda has become the first person to walk across Niagara Falls on a high wire.
Tens of thousands of people gathered at the falls and millions more were believed watching on television as Wallenda crossed some 200 feet in the air on a two-inch-wide wire strung over the raging waters of Horseshoe Falls, the largest of the three falls that make up Niagara Falls. Wallenda trotted in his final steps across the wire and stepped into Canada, barely 25 minutes after he started.
"It's all about the concentration, the focus, and it all goes back to the training," he said.
Those obstacles notwithstanding, Wallenda told reporters Thursday that he hopes the walk will be "peaceful and relaxing." "Often, I'm very relaxed when I'm walking on a cable like that," he said, but he added that the historic nature of the event could also mean "there'll be some tears involved."