| | |
| --- | --- |
| | created 11 months ago | Tagged: well being, safety, barely legal, physiological, belonging, living vicariously, football, smoking, marijuana, religion, fire, jesus, arson, usc, second coming, |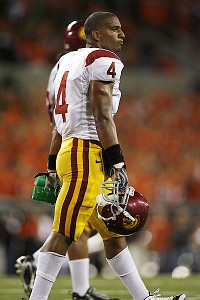 Kevin Ellison, once one of the top defensive backs in the nation for the USC Trojans before being sidelined by a knee injury as a senior, has been arrested on federal arson charges after he reportedly told investigators he set his bed ablaze with a marijuana-filled cigar because "God" told him to.
According to local media, Ellison confessed to starting a fire that engulfed an apartment early Thursday morning in Liberty Lake, Wash., near Spokane, after initially telling authorities he had been smoking in bed.
Ellison reportedly jumped from the third-story unit but sustained only smoke inhalation. Ellison, upon a follow-up interview in the hospital, confessed, citing the request by God, and said separately to another investigator "that he just wanted to get out of it and for it all to go away," according to The Spokesman-Review, which cited federal court documents.
Ellison had been behaving strangely recently, according to Shock owner Brady Nelson. Nelson said Ellison had sent text messages to people Thursday night in which he claimed he was Jesus and was part of the Second Coming, KXLY-TV of Spokane reported.