Run for Your Life 5K

created over 3 years ago | Tagged: well being, entertainment, safety, exercise, health, running, living vicariously, fear, survival, zombies, zombie apocalypse,

Locke!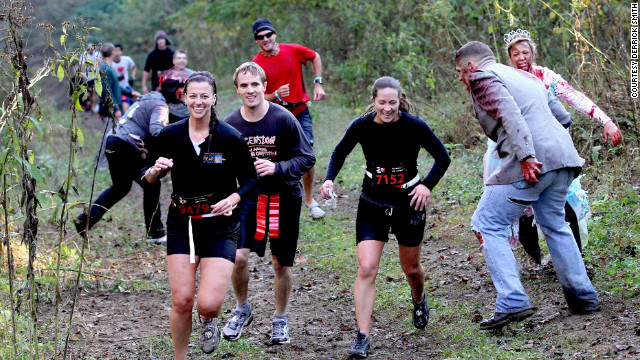 When it comes to the zombie apocalypse, popular culture has taught us that everyone falls into one category or another: infected or survivor. You're either running away from an undead threat, or you're running, and shambling, after your next human snack. Yet the role that's so rarely discussed with zombie pop is that of a maker. That has now changed. Instead of an act of God, nature or mad science, the zombie apocalypse has been orchestrated by one man, Derrick Smith Smith is the co-creator of Run For Your Lives, a 5K race and "zombie-infested" obstacle course that officially launched last October in Darlington, Maryland, and is launching a nationwide roll-out in cities across the country, beginning with Atlanta on Saturday.
A fan of AMC's "The Walking Dead," Smith said he and childhood friend Ryan Hogan planned on creating an event similar to intense races Warrior Dash and Tough Mudder to raise the profile of Hogan's athletic clothing line, Warwear. But then, they were trying to decide on something to run "from," and the idea of zombies emerged. Although he doesn't classify himself as an "avid zombie fanatic," Smith said he's always enjoyed the movies and specifically prefers the zombies of "28 Days Later." "I definitely appreciate the quick-moving zombies and the vacant city setting where there's strategy involved," he said.
As a result, the 5K RFYL course (3.1 miles) is not a straight shot from start to finish. Smith and Hogan opted for a race where each course is unique and unpredictable. "All of our course locations are designed based on the existing terrain with about 10 to 12 man-made and natural obstacles included," Smith said. Furthermore, "there's multiple routes to the finish line, and there might be a couple dead ends, or you might hit a fork in the trail, and one way is going to be a little bit longer." He added that the course maps and obstacles are kept hidden, but the Darlington race included a 20-foot-tall cargo net and a "blood pit" filled with red liquid. The "Event Day Info" sent to participants warned of strobe lights and 3 feet of water. Smith also gleefully acknowledged that the Georgia red clay would leave a lot of opportunities for mud at the Atlanta race.
As for the zombies, Smith said they're actually volunteers recruited through Facebook and Twitter. On race day, runners traverse this wasteland populated by slow and fast volunteer brain munchers. The runner "survivors" wear a flag football belt with three flags that signify their health. If zombies pick off all the flags, runners are infected by the end of the race and won't be eligible for prizes. Meanwhile, the living get a survivor medal and a chance to win swag. "We actually have health bonuses hidden throughout the course," Smith said. "So as you're running through, you could lose all your flags, but - kind of like a real-life video game - there's going to be opportunities for you to snag a little health pack that would ensure you cross the finish line as a human." The attention to detail and strategy involved could position RFYL to capture the zombie zeitgeist and expand it into the real world as it spreads to 11 more cities in 2012 - including Boston, Los Angeles, Toronto and Pittsburgh, where director George A. Romero's "Night of the Living Dead" was shot. Smith said the Darlington event attracted approximately 10,000 spectators and participants between the ages 14 and 55.
Fresh, Relevant, Curated Sparcwire™ is about human intelligence combined with technology. The Waves below are part of our unique ontology of tag stacking and filtering content to find what's relevant and happening in life. This results in better, more relevant insights and ideas. Mouse over each Wave to discover a Human Truth.