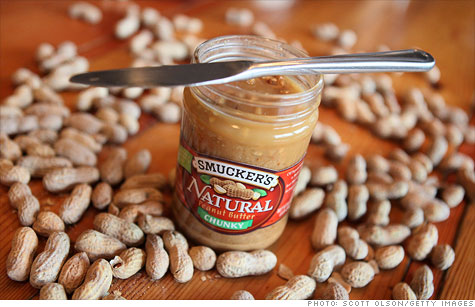 Trick-or-treaters might want to hold on to those Reese's Cups this Halloween as sharp increases in peanut butter prices have begun going into effect following one of the worst peanut harvests in decades. Kraft (KFT, Fortune 500) will raise prices for its Planters brand peanut butter by 40% starting Monday, while ConAgra (CAG, Fortune 500) has instituted increases of more than 20% for its Peter Pan brand that went into effect this month.
J.M. Smucker (SJM, Fortune 500), which makes Jif, will introduce price hikes of around 30% starting Tuesday. Consumers, meanwhile, are already seeing these increases reflected at grocery stores. Maria Brous, a spokeswoman for the Publix chain, said the store had already made slight increases in retail prices and expects them to go higher "as the cost of goods continue[s] to rise". Dick Roberts, a spokesman for Giant Eagle grocery stores, said that "like all retailers," the store is "being affected by industry factors on peanut butter pricing". Chris Brand, a spokesman for Giant food stores, said the "outlook does not look good until next year's crop is harvested and produced". Peanuts usually get harvested in the fall, around September and October. While spokespeople for several grocery chains declined to provide specific pricing figures, the peanut industry is clearly under pressure this year after one of the worst harvests in recent memory.
Prices for a ton of runner peanuts, commonly used to make peanut butter, hit nearly $1,200 this month, according to the U.S. Department of Agriculture. That's up from just $450 per ton a year ago. Overall, the USDA projects that American peanut production will hit 3.6 billion pounds this year, down 13% from last year.
Fresh, Relevant, Curated Sparcwire™ is about human intelligence combined with technology. The Waves below are part of our unique ontology of tag stacking and filtering content to find what's relevant and happening in life. This results in better, more relevant insights and ideas. Mouse over each Wave to discover a Human Truth.