| | |
| --- | --- |
| | created over 3 years ago | Tagged: iphone, entertainment, software, apple, toys, virtual, interactive, models, digital, games, lego, app, |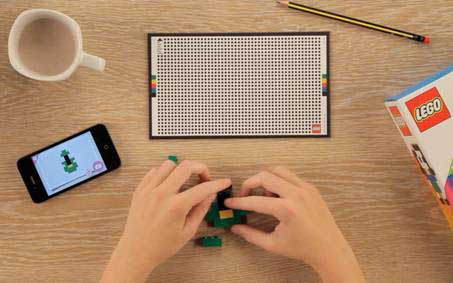 There's no shortage of LEGO apps and games available for iOS. But the company's latest offering, Life Of George, is the first to really take advantage of the iPhone's unique capabilities. The game actually brings together both the physical and digital worlds, as players compete to recreate what they see on screen in each level, using only the collection of bricks that come in the box. Once they're satisfied they've built it correctly, they place their LEGO model on an included grid map and take a photo of it with their iPhone.
Using "patent-pending brick recognition software" created by a company called EyeCue, the game then scores the creation based on how accurately it matches the image, and how quickly it was built. The character of George seems very similar to the Flat Stanley Project, since the objects you're challenged to build all come from his travels around the world. So I guess on some level it's also educational. And if you're a rebel like yours truly, the game also includes a 'My Life' mode which lets you build and photograph your own creations, which are converted into virtual LEGO models and stored in a scrapbook. The game will be available come October 1st for $29.99, while the accompanying iOS app will of course be free.
Latest recipes from The Food Channel: