The House That's Squashed Between Four Boulders

created over 5 years ago | Tagged: entertainment, design, sensory appeal, house, unique, architecture, portugal, tourist attraction, boulders, flinstones, stone house, mountain retreat,

Cara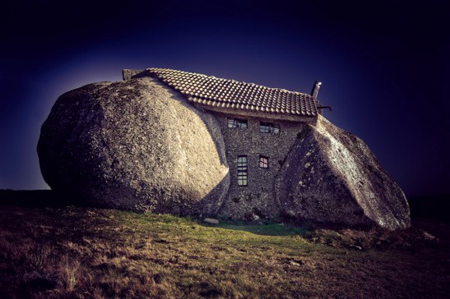 Designer Daily has just published photos of Northern Portugal's Casa do Penedo, or Stone House, which was built in 1974 as one family's mountain retreat. Despite the fact that it resembles a prehistoric dwelling—all the press it's gotten have likened it to the Flintstones' home—its modern amenities include a fireplace and a swimming pool. Not to mention the throngs of tourists who now flock to see the architectural wonder—even the owner has moved to avoid the hubbub, presumably to a boring ol' regular house.
Fresh, Relevant, Curated Sparcwire™ is about human intelligence combined with technology. The Waves below are part of our unique ontology of tag stacking and filtering content to find what's relevant and happening in life. This results in better, more relevant insights and ideas. Mouse over each Wave to discover a Human Truth.