SAS parachute dogs of war into Taliban bases

created over 5 years ago | Tagged: well being, design, safety, shielding, belonging, filling the void, dogs, war, taliban, trained, special forces, afganistan, parachutes,

2martens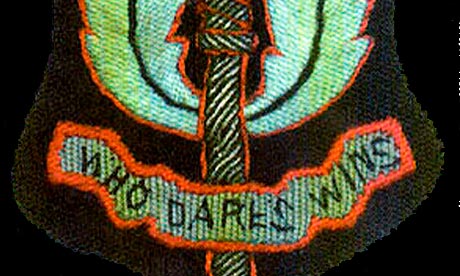 UK special forces in Afghanistan are parachuting German shepherd dogs with video cameras into Taliban strongholds to search buildings for insurgents, with at least eight animals killed during operations. The dogs are strapped to the chest of their handlers for the drops, and cameras are attached to their heads to feed back images of buildings and surrounding areas. The tactics have been adapted from US special forces, but the Ministry of Defence said it would not comment on a report on operations by SAS troops.
The dogs are reportedly trained to attack armed people, and eight of them have died in action so far. "But that would be eight SAS men," a source told the Times. The MoD has an official policy of never commenting on any aspect of any special forces' operation. But that policy has been increasingly undermined by members of the special forces and by comments from ministers and commanders.
Animal rights campaigners expressed their outrage at the use of dogs by British forces in Afghanistan. People for the Ethical Treatment of Animals (Peta) said: "Dogs are not tools or "innovations" and are not ours to use and toss away like empty ammunition shells." But it's not the first time an army has turned to canine helpers to assist in dealing with an enemy.
Fresh, Relevant, Curated Sparcwire™ is about human intelligence combined with technology. The Waves below are part of our unique ontology of tag stacking and filtering content to find what's relevant and happening in life. This results in better, more relevant insights and ideas. Mouse over each Wave to discover a Human Truth.